The ACG Industrial Heartland project is our current focus and is designed as a world leading Carbon Capture, Utilization and Storage (CCUS) system that will provide emitters in Alberta's Industrial Heartland with a cost-effective, safe and reliable solution to permanently store CO2 – all while helping the province and industry meet important emissions targets.
The project will be developed in phases with the potential capability of transporting and storing up to 10 million tonnes of CO2 annually when fully developed.
In February 2022, we submitted an application to the Government of Alberta for the project. In March 2022, the Alberta Government invited us to move forward into the next stages of the province's CCUS process to further evaluate one of the largest Areas of Interest (AOI) for safely storing carbon from industrial emissions in Alberta.  
ACG has entered into a carbon sequestration evaluation agreement with the Government of Alberta and secured the rights to evaluate over 900,000 hectares of premiere land north of Fort Saskatchewan, Alberta that could potentially support a variety of customers throughout Alberta especially those in the Industrial Heartland region.  We are still in the planning stages for the full evaluation work on the project and will continue to provide updates when more details are available. 
ACG sequestration hub Area of Interest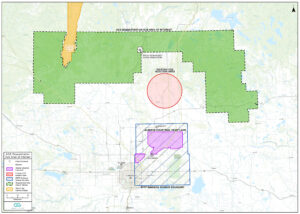 click to expand map
We are excited about the opportunity to work alongside the Government of Alberta, collaborate with our industry peers, and connect with Indigenous communities and key stakeholders to advance this important work. The project is part of a multi-year effort to help meet federal emissions targets and benefit the Alberta economy. CCUS is an essential step in decarbonization and reducing GHG emissions to help meet Canada's climate goals.